Gili Getaway is a reputable transportation service that provides daily fast boat services from Bali's Serangan Harbor to the Gili Islands and Lombok. This service offers a convenient and efficient way for travelers to access these popular destinations in Indonesia. Here's a brief overview of what Gili Getaway offers:
Daily Departures: Gili Getaway operates daily boat services, ensuring that travelers have flexible options for their journey to the Gili Islands and Lombok. This frequency allows passengers to plan their trips according to their schedules.

Fast Boats: The company utilizes fast boats for its services. These boats are designed for speed, comfort, and safety, making the journey to the Gili Islands and Lombok a relatively quick and pleasant experience.

Departure from Serangan Harbor: Gili Getaway departs from Serangan Harbor in Bali. Serangan Harbor is a strategic location for those staying in the southern part of Bali, such as Seminyak, Kuta, and Sanur, as it offers easy access and minimizes travel time to the departure point.

Destinations: The primary destinations served by Gili Getaway include Nusa Lembongan, Nusa Penida, Gili Gede and the Gili Islands (Gili Trawangan, Gili Air, and Gili Meno) and Lombok. These destinations are renowned for their stunning beaches, crystal-clear waters, and vibrant marine life, making them popular choices for both tourists and divers.

Reliability: Gili Getaway has gained a reputation for its reliability and commitment to passenger safety. They prioritize maintaining their boats in good condition and adhere to safety standards, providing peace of mind to travelers.

Additional Services: In addition to ferry services, Gili Getaway may offer additional amenities such as onboard refreshments and air-conditioned seating areas to enhance passengers' comfort during the journey.
Overall, Gili Getaway plays a crucial role in facilitating travel between Bali and the Gili Islands or Lombok, offering a reliable and convenient transportation option for those looking to explore these beautiful Indonesian destinations. Travelers can take advantage of their daily departures and fast boats to enjoy a memorable and hassle-free trip to the Gili Islands and Lombok.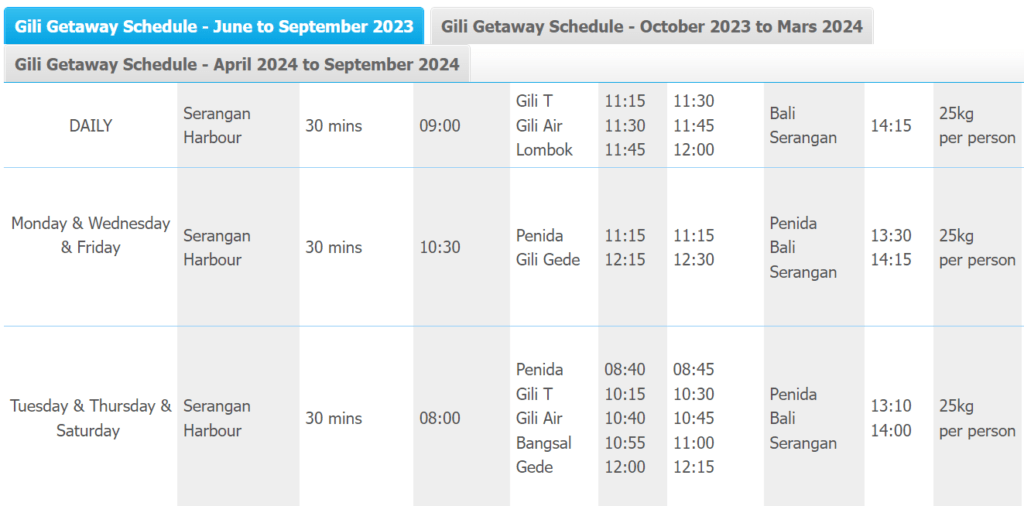 Advantages Using Gili Getaway Services
Better Service Quality: Gili Getaway offers superior service quality compared to other fast boats.

Departure from Serangan: Gili Getaway departs from Serangan, which is used by only two fast boats, including Gili Getaway. This helps avoid long queues and delays that can be experienced in places like Padang Bai.

Multiple Routes: Gili Getaway offers a variety of routes, including Nusa Penida, Three Gilis, Lombok, and even lesser-known destinations like Gili Gede and Hidden Gilis, which boast stunning underwater beauty.

Good Ratings: Gili Getaway has received positive ratings on platforms like Google Maps and others, indicating high customer satisfaction.
Disadvantages Using Gili Getaway Services
Disadvantages of using Gili Getaway:

High Prices: One drawback is that Gili Getaway tends to have relatively high prices, which might not be budget-friendly for some travelers.

Small Boat Size: The smaller size of their boats can result in a bumpier ride during rough weather conditions, potentially causing discomfort for passengers.

Limited Space: Gili Getaway may have limited space on their boats, making it challenging to book a trip on the same day you plan to travel. This can be inconvenient for spontaneous travelers.